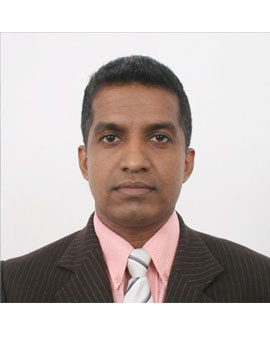 Qualifications:

Msc (Geotechnical Engineering), BSc (Eng), PG Dip (Structural Engineering), C.Eng.,MIESL))
Work Experience:

Graduated in year 2000 and started carrier with Sierra Piling (PVT) LTD and presently works as Chief Operating Officer to Sierra piling (PVT) and Principal Consultant to PileTest Consaltants (PVT). He has gained more than sixteen years experience in the field of construction and testing of bored piles in Sri Lanka.

During his sixteen year service time, he was trained in the field of Dynamic Pile testing work with related to geotectical engineering field. He was specially trained on PDA Testing, PIT testing, CSL testing, pile instrumented load testing in Malaysia, USA, Japan and Portugal and a certificate was issued as a competent person to carryout above special testing services and data analysis. Further, he completed his Msc degree at university of Moratuwa in civil engineering specialized in (DYNAMIC PILE TESTING IN SRI LANKA) geotechnical engineering and PG diploma in structural engineering.

He is a Charted Civil Engineer and corporate member of institute engineering Sri Lanka and is a member of Deep Foundation Institute of USA. He carried out complete PDA test, and complete instrumented pile load test first time in Sri Lanka and has evaluated more than 22,000 PIT, more than 1700 PDA test, 1000 CSL tests cases during this time frame. In addition, he had published six technical research papers in the same field in local and international technical magazines.